CONFRONTING THE CLIMATE: A FLOWCHART OF THE PEOPLE'S CLIMATE MARCH (2016) is my newest flowchart project, which I released in October 2016 through a crowdsourced funding campaign!
This image was produced over the course of two years, in collaboration with hundreds of organizers, activists and artists who were part of the effort to create 2014's historical People's Climate March. It depicts a representative sample of groups at the march, organized just as they lined up that day: in an order that tells the story of today's climate movement. Above the crowd hover banners explaining the 7 contingents, and a web of stories of the people on the ground that day, connecting to broader questions and contradictions we face when we confront climate change.
As a result of the successful crowdsource launch, I am now in the process of printing and distributing 5,000 folded copies of Confronting The Climate. I'm working with teachers, organizers and concerned folks across the USA and the World to distribute it and put it to use as an organizing tool.
Click here to download an educational zine explaining this project, featuring the thoughts of educators across the US and Canada about how to educate and organize using this image.
Below you can check out the video that the fantastic Lily Frances Henderson made for me to promote the crowdsource campaign for t this project:
Lastly, during the fundraising campaign, I also wrote up my TOP 10 REASONS why this was a project worth sharing. I've copied those here, with pictures, too!
10 REASONS WHY "CONFRONTING THE CLIMATE: A FLOWCHART OF THE PEOPLE'S CLIMATE MARCH" is worth sharing:
10) THE COMPLEXITY THIS IMAGE ATTEMPTS TO DIGEST
Here are 8 of the 40 different conflicting truths this image illustrates: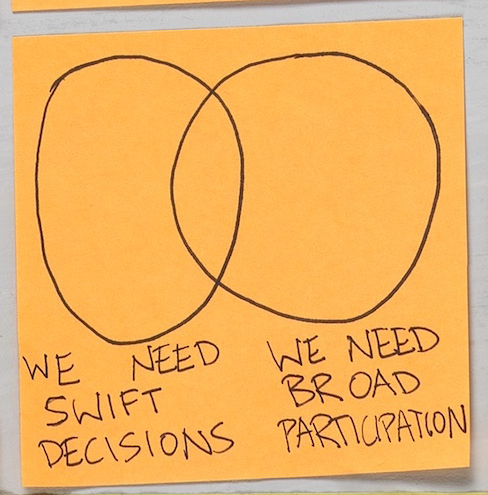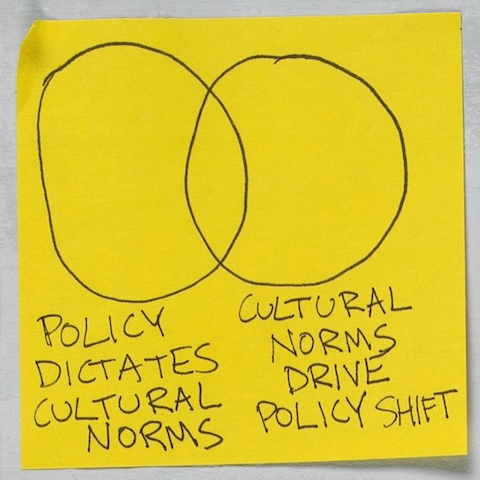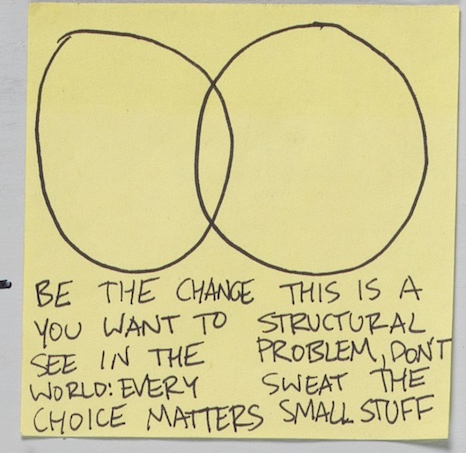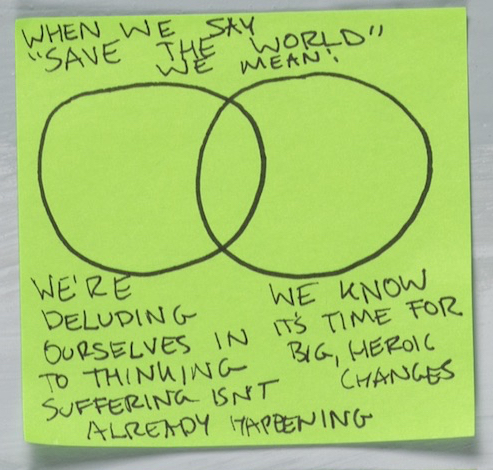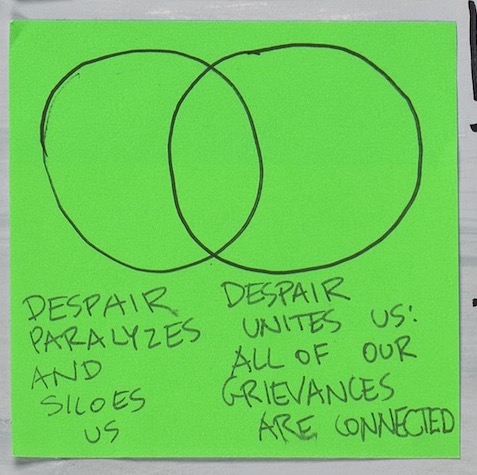 9) THE BEAUTIFUL ART MADE BY HUNDREDS OF ACTIVIST-ARTISTS
Click on each example for more details!
8) THE SLOGANS THAT TELL THE STORY OF TODAY'S CLIMATE MOVEMENT
Painted by Crystal Clarity, David Solnit and Alicia Gerstein, with post-it flag annotations by me!
7) THE EXTREME MATERIAL GEEKERY WITH WHICH THIS IMAGE WAS MADE
I developed this piece through a two-year long performative studio practice that I called THE GRAY AREA. It got pretty weird!
Here's me in my studio near the completion of the project!
6) THE ENORMOUS QUESTIONS ABOUT OUR WORLD THIS POSTER ASKS
I make no claim to have the answers....
5) THE SYNTHESIS OF MANY DIFFERENT KINDS OF INFORMATION
Here's a diagram that lays out what you're looking at. Yes, it's a diagram to show you how to read a diagram.
4) THE HUNDREDS OF STORIES WOVEN TOGETHER
It's hard to isolate one, but here are some "story boards" of how different themes start to emerge when your eye traverses this image....
3) THE SILLY AND THE SERIOUS MIXED TOGETHER
Despite being an extremely sobering and serious image about climate change, if you read carefully you'll find things that are kind of fun?
2) THE WISDOM OF MANY
This poster was created out of two years of dialogue and research, and represents the best thinking of many organizers and thinkers, building on one another.
1) THE FUTURE OF OUR MOVEMENT, BY REMEMBERING THE PAST.
The FINAL REASON of 10 to share this project is THE FUTURE. This one feels best told in words, but hear me out....
Sometimes I imagine a giant meeting where all of us working to transform the world get together and make a giant work plan to divide and conquer, to actually build a future where all people live with dignity, justice, respect and ease.
I imagine at that meeting, (like many meetings) we'd be talking about the urgent shit: about state violence, prisons, about racism, indigenous sovereignty, poverty and....unfortunately a lot else. And someone would say "what about climate change?" and we'd have to have a hard conversation (as we often do) about how white supremacy has colonized our conception of nature and turned atunement to the earth in to a privilege, and so we experience the enormity of climate change as an intellectual, distant problem and not a constant layers of what ails us, a literal pressure cooker for our already-sick world. We'd say: we need to get past this, once and for all, and act on the fact that we are killing our planet and ourselves with it: it's not an abstraction even though it is vast.
We'd decide we needed to come together sometimes, amidst all the other work, to deal specifically with climate change, but we wouldn't really know what that meant. (Because some days, I'm still not sure I do....)
"I mean, what about the People's Climate March?" someone would say. "Yeah, it was kinda cool, but it was hella corporate too. And what did it actually achieve?" ("hella" bc it's not unlikely this visionary meeting would likely take place in the bay area, right?)
"Can someone take some time to unpack what that was all about in a way that we can digest it?" a facilitator might say. "We've got a lot of shit to do in this world, but we could probably spare just one person for a year or so to go talk to all the people who are smart about that stuff and put it in a form we can actually relate to, you know? Who's the right person for that job?" And then I'd look around the room, and take a deep breath, and raise my hand.
I made this image because I just wasn't seeing a synthesis of the People's Climate March that did justice to what I learned through it: and before I moved on completely to other work and challenges, I wanted to make sure I sucked the learning marrow out of the organizing bones....
Because as big as the People's Climate March was, we need to do so much more. This will require acts of collective moral clarity and coordinated bravery on an unprecedented scale. It will not be simple. We need to be able to point to the People's Climate March, to look the complexity of what it was in the eye clearheadedly and simultaneously stay inspired, so that- as ambitious as that march was- we can be wildly more ambitious and brave in the years to come.
This poster provides a way to physically point at what happened in NYC in 2014, and to do so with accuracy about what that moment meant, and in a way that opens up important conversations about 2016 and many years beyond.